friday, 12 november
so ayun. may birthday party si ge sa bahay nila. casual lang, according to the invitation. pagdating namin sa kanila... tadaaaa! hahaha! mukhang pang formal na debut. kumpleto dekorasyon pa. christmas lights, flower arrangements, etc! hihihi. owkay, the rest of the kwento i'll leave it up to ge. ah basta, nasa hot seat ako non! puro kantyaw ang inabot ko. hwehehehe. i had fun. ;)

dapat don na ko susunduin sa bahay nila ng parents ko kasi didiretso na kaming baguio. kaya lang my dad didn't want to drive sa madaling araw, madilim, okay lang sana if we're familiar with the roads na dadaanan namin. eh hindi... so balik pa ako ng dorm at don naghintay til 4 am! super wasted ako. nagbihis lang and then slept. nevermind kung di na ako naligo. pano ba naman kasi, had tequila. di naman ako sanay. ayun. bagsak.

sabaday, 13 november
we have new ford everest nga pala. hehehe, kaya kami pumunta ng baguio para itesting! hahaha! jowk. anyway, eto pic namin ng pinsan ko and ng bro ko. stop over namin sa may luisita...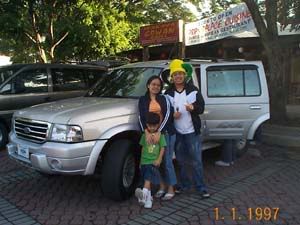 we arrived at baguio around lunch time. hanap hanap ng lodging and we ended up don sa tinirhan nila ge when they went to baguio.

tapos we went to burnham park. sakay kami ng boat nung pinsan ko. ang kyoot ng pinsan ko!! hihihi. kamukha ko sya nung baby ako.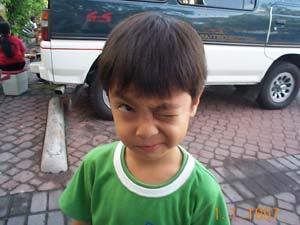 then punta kami sa ukay ukay! bought 3 skirts and 1 shoes. total cost: 370 LANG! kasalukuyang nasa laundry bin sila ngayon kasi i bet they're so full of alikabok! nagkasipon kami ng kapatid ko pagkagaling namin sa ukayan. sya naman, he was able to buy a kappa jacket (which i think is orig) for 150 bucks. and nice blue checkered chucks for 600. orig din yun. nice.

sunday, 14 november
happy birthday sa aking pinakagwapong daddy! 47 na pero mukhang 30+ lang. miski may gerald na ako, kayo pa rin ang no.1 lalaki sa buhay ko! naks, enough bola na, hihihi.

san san ba kami pumunta? nagsimba muna kami sa cathedral nila, fully packed! exoj! then balik sa ukayan wala lang, huling tingin. too early though at wala na akong nabili pa, sarado pa yung ibang stalls. tapos sa mines view park. bought lots of pasalubong and took lots of pictures. then punta muna kami good shepherd for their world famous ube jam. kaya lang 2pm pa daw available... so kain muna kami sa barrio fiesta. and i had an expereience there with an igorot man...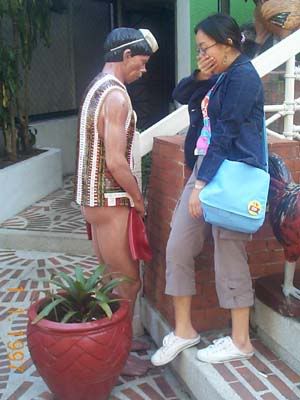 hihihi!! ang kapatid ko naman, may experience with the doggies!!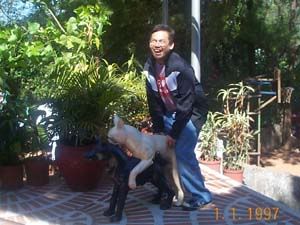 ayan, balik kami good shepherd, just in time for the ube. shet, pagdating don, ang haba ng pila!! 2 hrs kami nakapila just to buy their ube. but it's G-O-O-D!

then punta kaming camp john hay. wala lang don. tingin tingin lang.

most of the time eh nawawala kami. hwehehehe! ilang "pare" na ang napagtanungan namin just to go to a particular destination. pansin ko pa, puro rotunda sa baguio! everytime we pass by one, sasabihin ng pinsan ko, di ba nakapunta na tayo dito? hehehe.

at bigla na akong tinamad magkwento. hehehe.

monday, 15 november
andito na ko sa dorm. balik school na naman. speaking of school, have to research pa for zoo. haaaay. yoko ng zoo namin ngayon, embryology!! nyorkis. di naman masyadong magaling magturo yung teacher. sabog sabog.