haaay. it's such a drag, i'm blogging in an almost week-long basis. thanks to my super high speed internet connection sa dorm (that's uber tainted with sarcasm), i've only gone online for a couple of hours. doing research, whatelse?

hindi ko pa marerealize na simula na talaga ang pasukan kung di pa kami nag-quiz sa zoo lec last tuesday. this is it! eto na talaga. wala ng atrasan. sinundan pa yun ng two quizzes sa physics at reporting sa zoo lec na naman. sabi na nga ba eh. yang maluwag na sked na iyan, pakitang tao lang, hihihi. ang toxic, sobraaaa! lalo na yung sts namin (science, technology and society) which SHOULD BE A WALA LANG COURSE BUT WHAT THE HELL WE GOT A TOXIC TEACHER. we even have a friggin group "terminal paper" (as prof dla put it, he uses big big words! i mean terminal is not really big, i know but he could have said term paper na lang da ba but he's really maarte with his words) that rendered us catatonic. he said that kaya. kaya major laughtrip din sa amin ni ge yung sts. add to that that he always says okaaaay, or kaaaaaay. binilang nga namin. around 5-6 okaaaaaaay/kaaaaaay per minute! wahahaha! sutil.

okay. this is fun. i'll say a bit about our teachers muna.

you know prof dla na. yeah, and dr. co din, our zoo lec instructor. the ms quotation queen. i wanna add something lang. I DON'T GET HER. i think i have to read the book before all those tthings she said would make sense. sorry na lang ako, i don't do advance reading. all those handouts are piling up and i haven't gone through 1/4 of them. oh my oh my.

ma'am borja for physics 52. "gets mo?" she teaches really fast but i'm learning. i'm actually forced to listen to the lectures because we have quiz/zes afterwards. sana lang she doesn't make baby talk to me like what she did last sem, physics 51.1. crap!

dr. nicolas. the dean pala of AS. good teacher but biochem is still chem... oh god oh god help me. the module is color blue din like the org chem. deja vu? shiaaaat. I SIT IN FRONT NA. btw, she's our teacher din pala for natsci 50. molecules to man. how can we get so friggin lucky?! 2 chem subjects in a sem. oh yes sireeee! saya sayaaaa!

prof. jaravata for zoo 30. kewl teacher. we didn't understand and see all those spermatids/spermatocyte/spermatogonia under the microscope kaya she'll be providing us with pictures para ma-pinpoint nya which exactly is which. coolness.

dr. dizon (tama ba?) for ipc, history of medicine. OC teacher. OC doctor. asks too much from us, considering that IPC units is enclosed in parentheses. yebaaa!

dr. cordero for fch (family and community health). like him like him like him! he's very passionate about what he's doing and i hope all doctors are like him.. you know, all those shit about serve the filipino people apply to him. funny pa! super maka-UP. hahaha!

sir baclig (again) for physics 52.1. he's mabait really but he's super sensitive! maingay pa naman ang block namin and he takes it personally na maingay kami.. sheesh. but he's mabait naman eh so okay lang.

there you have it. so if i go crazy over the sem... blame one of them.

----------

ay, may ikukuwento pa ako!!!!!!!!!!! had a crazy experience yesterday! i was hurrying along taft because i was going to meet my groupmates for our report. as in i was walking big long strides kasi we have to go over our report slash presentation pa and we only have 1 hr left. while i was walking...oops! bakit bigla kong na-feel yung concrete? i looked back. i saw the slip-ons that i was wearing. sabi ko sa sarili ko, kahiya naman, naiwan ko yung tsinelas ko... so sinuot ko ulit. and guess what? it's napigtal pala!! oh my god. how utterly embarrassing! i was bending down trying to fix it kahiya talaga!! and i couldn't fix it! i walked dragging my foot kasi nga the tsinelas comes off! i called gerald and told him what happened. hihihi, kumakain pala sya.. he had to leave his food pa just to get to me. he borrowed sandals ni carlos and it was so so big for me. at least i have footwear naman to walk all the way back to the dorm. so there, changed shoes sa dorm. that, to date, is my most embarrassing experience! as in i saw this lady riding a taxi laughing at me! the taxi kasi was naka-stop kasi sa stop light kaya medyo may build-up of traffic sa tapat ko. nakakahiya talagaaaaa! funny rin. :p

----------

ninakaw ko sa blog ni ge kasi i like it talaga. :)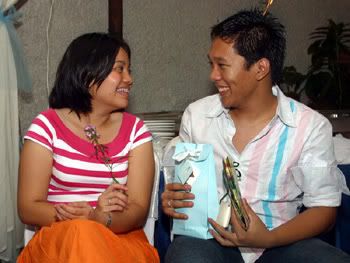 kyoot no? lalo na yung braso ko. that was taken at his birthday party.

i'm off!!