the past christmas was my happiest to date. mejo matagal ko ng pinagninilaynilayan kung bakit... the answer: you're not gonna believe this (coming from me)! si jesus. :D
pano ba naman kasi, ako eh yung type na, yep i'm catholic, period. ganon lang. going to mass was just some kind of obligation, a family affair during saturdays or sundays.
but attending misa de gallo changed all that. yung pagsisimba every night made me feel light hearted afterwards. happy. ang galing, yung essence ng simbang gabi, which is actually a preparation for the self to accept christ's coming and love on christmas day, was not lost in me. hindi yung sisimba ka dahil masarap ang simoy ng hangin or masarap yung puto bumbong afterwards. :D
sabi pa nung pari nung christmas homily... love is the reason for this season. tama! kaya masaya ang pasko ko ay dahil christ gave me so much love the past months... buo ang pamilya ko ngayon, there's gerald, my imed friends who i never get tired of seeing everyday.. ganon. naintindihan ko na rin sa wakas. let me change that. i'm just STARTING to understand it.
i don't think i made any sense. hahaha!! i've barely scratched the surface of what i've wanted to say, of what i'm feeling. :)
eto o, picture!!! our church, on christmas eve: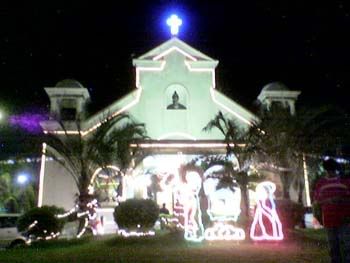 kinda malabo, just from my trusty 6230. yung guy na andon, di ko kakilala, paharang harang sa camera! hehehe. kahiya naman patabihin di ba. :D