whew. after how many days of not blogging, eto na naman akoooo!! weeee!! yayness!!! i'm finally at the place where i can choose 'never dial a connection' in my internet connection settings. yep, i am so at HOME already!! just got back from manila yesterday afternoon. ;)

so much have happened the past 2 weeks.. ittry ko silang irecall lahat!!

ACADS:
believe it or not ZERO ang acads meter ko for the first part of the 2nd sem. we didn't do anything!! unbelievable! dahil nga siguro maraming days na walang pasok dahil sa bagyo, holidays, at kung anu-ano pang activities ng college ay na postpone ang mga departmental exams, etc namin. nakadalawang quiz lang yata kami samantalang sandamukal ang exams ng ibang courses. i'm going to hoard all the sleep i could get! i bet hapitan na yan next year.

iMED SHIRT:
astig. ang yabang!! hehehe. sayang, di ako nakakuha ng pics galing kay sheng. tingnan nyo na lang kay GERALD yung pics namin. buti na lang black ang napili naming kulay. nakakapayat!! hihihi.

NMAT:
ano nga ba ang NMAT? it stands for national medical admission test. all those wannabe doctors have to take the NMAT so that they could enter the medical school of their choice. for intarmed's case, formality na lang yung NMAT. di namin kailangang umabot sa kung anumang percentile para makatuloy kami ng med proper. kung mataas ka, well and good, may natutunan ka din pala sa lahat ng ka-toxican na ipinasok mo sa utak mo. hehe. kung mababa ka, ouch, masakit lang sa pride. so how was the test? ummm, i'm glad intarmed ako. :) pag nakuha ko na ang aking test result sa february, wala akong pagsasabihan ng score ko! sa physics and bio and some subtests lang ng abstract part lang ako mejo nadalian. MEDYO lang. bwehehe. i dunno din, baka naman dahil hindi ako nagreview whatsoever! nagsimula lang akong magsagot ng NMAT stuff 3 days before the examination date. talk about cramming huh? anyway, i'm just glad it's over! good luck to those who are going to take it on april!

BAKING SESSION w/ GERALD:
ge and i planned to give cookies to the whole class for christmas. wala ng ibang time so after ng NMAT umuwi kami sa bahay nila sa Q.C para magbake. pero bago magbake ay namili muna kami ng ingredients sa cherry. then heard mass at the church behind cherry. then ate at jollibee for the third and thankfully final time that day! pinoy version of supersize me huh? anyway, we started mixing all those ingredients at around 8:30 pm already. initially, we planned to give 10 cookies per person (so 10x40 is 400 rayt?) kaya lang, by around 10 pm we realized na di namin kakayanin yata, we still have to go back to manila. so ayun, mix mix and bake. hehe. ang filipino pala sa baking ay paghuhurno. non ko lang nalaman. ;) tapos we placed the cookies in small plastic containers, added red and green ribbons. to follow na lang the next day yung gift cards kasi we were so wasted by the time we got back in manila. 2 am na yun. haaaaay. kapagod. labor of love. ;)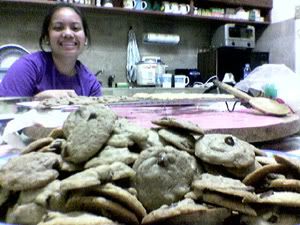 looking harassed after baking. haha!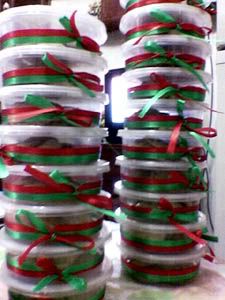 SALUBUNGAN NG MGA TALA, ADOPT A WARD AND CAMPUS IDOL:
syempre, kinarir na naman namin ang simpleng pagkakaroling. hehe. nagcompose pa sina gid and master julian ng christmas song entitled Araw ng Pasko. but the salubungan didn't proceed as what we've expected. pagdating sa PH, parang 1 song lang dapat ang kakantahin namin! but di kami pumayag! sayang naman ang pinaghandaan namin. and besides, sinabi naman yata na it's a 30-minute program. kaya ayun, napasama tuloy kami sa pag-ikot sa campus. haaaay.. ang kinalabasan pa eh parang kami lang pati ang mga students sa carolers. most of the people that were with were like staff or faculty of the department. i dunno. basta they were old na. pagdating sa NIH (national institute of health) tumakas na kami to go to the Cancer Institute (CI) at PGH para naman sa adopt a ward.

magkasama kami ni ge sa room na pinuntahan namin sa CI. both of the patients are suffering from breast cancer. yung nakausap ko has already undergone chemo. ayun, kwento kwento lang... ako, yung patient mismo ang nakausap ko. si ge naman, yung bantay nung patient. here's the twist: yung nakausap ni ge ay may pagka psychic. i'm not going to delve into details but what he told ge is not exactly amusing.

after ng adopt a ward, we went to campus idol to watch the two imed 2011 contestants. sayang, di namin naabutan ni ge yung dalawa.. di ko rin naman na masyadong napanood yung iba dahil kachikahan ko si louie. ang corny ni wency corneho yun lang.

UPIS FAIR:
pagkatapos naming mag FCH at sumaglit sa christmas party ng med (i swear, matutunaw na yung crush namin ni kathy sa katititig namin!!!), pumunta kami ni ge sa UPIS para manood ng concert ng cambio, sugarfree, imago and other underground bands. dumaan muna kami sa bahay nila para kunin yung starex tapos we had dinner din don.

pagdating sa IS, may naalala akong nangyari sa akin dati doon noong 3rd year HS pa lang ako. i was there before kasi dual meet ng UPIS at UPRHS. syempre, i was ever supportive of ex no. 2 kaya i went to watch him play volleyball. after a disapponting loss against UPIS volleyball team (kung saan kasali si gerald, hahaha!) super bad trip si ex no. 2. i asked him if he wanted to eat but he was really so bad trip that when he answered "ayoko" parang naiinis pa sya sa akin. so nabadtrip din ako! LQ! wahaha! pagtapos non, i went to sit on a fallen tree trunk at sinundan nya ko don. dahil nga LQ kami, di ko sya pinapansin. maya maya biglang, CRAAACK! nabali yung branch na inuupuan ko, nabigatan yata masyado sa akin. bwahahaha!! nalalaglag ako sa ground with my feet up in the air. kahiya! ex no. 2 helped me up on my feet, laughed at the whole incident and just like that, nagkabati na kami. bwahaha! wala lang. reminiscing.

side note: alam nyo ba na foster "brother" ni ge si ex no. 2 nung nag exchange student si ge sa rural? he lived in their house for a week. FYI. ;)

going back to the fair... nagpa henna tatoo muna kami ni ge sa isang booth doon habang inaantay yung main performances. we had it around our wrists. ang mahal nga lang! supposedly mine was priced at 100 bucks. of course i had to make tawad, ang liit liit ng wrist ko tapos 100! no way jose! kaya ayun, 80 na lang. pagtapos ng henna tatooing session namin, we were just in time for cambio's performance. stig! rocker chicks, ummm, ROCK! bwahaha!
pagkatapos ng cambio, sugarfree naman, may mostest super kaduperest favorite pinoy band! yung song nilang "sinta" is now an official GerMaan song. bwahaha! pagtapos ng kanilang performance, we went backstage to have their autograph signed. ang kapal kapal ng mukha ko, i made chika pa with ebe (the band's vocalist). i told him that i was also rural nung high school. he asked pa if i was going to our alumni homecoming and he added that if i see him there, he'll remember me if i'd approach him and say hi. hehe. rubbing elbows with a star. :)
didn't stay around the stage or imago's performance. konti lang nanood sa kanila... after waiting for mela (ge's younger sis), we went back to manila. but our night didn't end there!! dahil wala na namang gagawin the next day, pumunta pa kaming roxas ni ge. hihihi. :) took out some food from 7-11 and just sat on one of the benches there. first time ko pang naka-wiwi sa portalet!! hehe. sayang, we were flat broke that day (lalo na ako, as in mamiso na lang ang natira sa wallet ko!) di na kami nakasama kina elaine at JM sa padi's. went back to the dorm at around 2:30 am.

FPJ:
on our way back to manila, we passed by sto. domingo church. grabe ang haba ng pila at dami ng tao!! FPJs death came as a shocker for many people including me because he didn't exhibit signs of a serious illness. unlike cayetano, who was clearly emanciated no?
kaya lang masyado na naman overly over sensationalized ang pagkamatay ni FPJ. pati sa mga diaryo, nasa front page ang picture ng casket nya. nagiging circus na naman. nawawala na ang "soulful mourning" ika nga. naaawa ako sa kanya. he was used by power hungry politikos last elections, hanggang ngayon ba namang patay na siya ay ginagamit pa rin sya? i heard from the news na "tinaningan ang Arroyo presidency". and who's behind? mga supporters daw ni FPJ. i wouldn't be surprised at all if Susan Roces runs for office in the next elections. wag kang makinig kay Angara! keep your word!

ABE, KATHY, AND TIPPEE'S BIRTHDAY PARTEEEEE!!
Happy birthday to my friends muna! Abe, gurang naaa! Kathy, your biological clock is ticking. same with TP, hanap na ng boys! bwehehehe. ummm, si tippee meron na. kathy? :D
grabe suot ni ge noon. mukhang sya ang may birthday! pogiii. ;) yung mga celebrants were wearing med shirts lang. hehehe.

we went to greenbelt, sa Krocodile grill(ery?) to celebrate their birthdays. ganda talaga don. afterwards "kodakan" (as kathy put it grabe didn't expect that word to come from you!) kami sa may fountains. bwahaha! imed people talaga o, camera shy. after seeing all our pics naman siguro di na kayo maniniwala sa sinabi ko. :D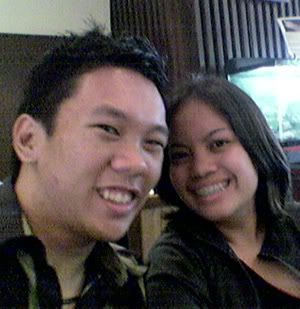 LANTERN PARADE
in true intarmed spirit (and kakapalan), nilead namin sa cheer ang buong college of medicine! exaj talaga, ngayon lang ako nag-enjoy sa lantern parade. last year kasi, naawa ako sa college namin, feeling ko patay na patay kami compared to the other colleges. nursing pa ang katabi namin tapos yung cheers pa nila mga anti-medicine. so this year... ipinakita namin sa kanila!!! hmph! ayan tuloy, im getting excited for next year's lantern parade. kaming class 2010 na ang gagawa ng lantern!

maganda naman yung lantern ng med, kaya nga lang kulang ng oomph factor. you know, the kind that would make people wow! kung mas malaki lang sana, and mas makulay at kung umiilaw, baka sakaling nanalo na kami ng 1st place. pero okay lang, naka-third naman kami this year for the lantern and pati na rin sa facade.

"DATE" :)
dahil baka last na naming magkasama ni ge for this year, we spent some quality time with each other bago sya bumalik ng Q.C. ;) (para namang di kami laging magkasama ano? hehe.) we ate take-out dinner from mario's kitchen and our favorite cake from figaro. yummy yum yum talaga. tapos nanood din kaming magnifico on vcd. truly deserving of all the awards that it got. galing ni jiro manio. ubos na ang luha ni ge kaiiyak! hindi siya todo drama like sharon cuneta/nora aunor films. but the simplicity and yet profundity of magnifico (jiro manio's character)... made the film truly moving.

BAHAY
pagdating ko dito sa bahay namin sa sta. rosa, isang bagay ang bumulaga sa akin. tadaaaa! nagpa landscape (na naman) ang mom ko ng garden namin. may mini fountain na sa garden. ang gandaaaaa. iisipin mong ang sarap mag date sa garden namin. ge, gusto mo dito na lang tayo mag date? bwahahaha! pictures to follow. walang batt ang digicam namin kaya bukas na lang pag sinipag ako. :) oo nga pala, paskong pasko sa bahay namin. ang dami-daming christmas decor. ang motif nga pala ng christmas tree namin ay pink at purple. wahahaha!! maan na maan. 3 yrs. ago na yun pero every year may dinadagdag lang kaming paunti-unti. pictures to follow ulit. ;)

CHRISTMAS SHOPPING:
di pa ubos ang christmas money ko. at wala na akong mabili sa robinson's ermita! lahat ng stores nasuyod ko na. di ko alam kung nagsasawa na ba akong magshopping or wala lang talaga kong magustuhan. bukas pupunta kaming market market! para mag gift shopping. alam ko na kung anong ibibigay namin sa mga pinsan kong girls. sa mga guys wala talaga! hirap talagang regaluhan ng mga lalaki o. sa mga tito and tita wala pa rin kaming naiisip kung anung ibibigay.

WHATEVER:
*happy 20th anniversary to my mom and dad!! gift ko sa kanila caricature nilang dalawa. bwehehehe.

*nagsisimbang gabi kami tuwing 9:00. iba kasi sa don bosco, kung saan kami nagsisimba, literally gabi ang simbang gabi, hindi madaling araw.

*ang gift na lang din ni tinton sa mga classmates nya ay kukis!! so my monday will be spent baking and baking and baking white choco chip cookies using ge's secret recipe. naku pano na yan, di pwede ang secret ingredient pag mag-isa lang ako? bwahahahaha!!

*eto mejo icky. nautusan akong maghugas ng mga platong kinainan namin kaninang tanghali. dahil sa kaantukan, natulog muna ako pagkatapos namin kumain. pagkagising ko nung hapon, sinilip ko kung hugas na ang mga plato. nakita ko nakastack na sila neatly sa isang tabi so nagblog na lang muna ako. maya-maya tinawag ako ni tinton at ipagluto ko daw siya ng pancit canton para sa meryenda. pagkaluto ko, kumuha ako ng plate dun sa stack. pagkatapos kumain ni tinton, huhgasan ko na yung kinainan niya then i suddenly noticed na may remnants ng malunggay yung ibang mga plates don sa stack. oops! di pa pala sila hugas!! and yung plate na pinaglagyan ng pancit canton ni tinton, di pa rin nahuhugasan!! bwahahahahahaha!

*i bought a new wallet na nga pala and it cost 150 bucks lang. fake na benetton. kyut nya, color white tapos may trimming na pink. kaya nga lang ang bilis dumumi. nyorkis. but i've found a replacement na!! yahoo!! now i just need the money to buy it. it's xoxo, saw it in rustan's. not the long one though, maliit lang sya but kasya na lahat ng cards ko. actually i have the money pa pala. kaya lang mejo gagamitin ko muna yung new wallet ko so i won't go hinayang on it.

*random pictures pictures pictures!!!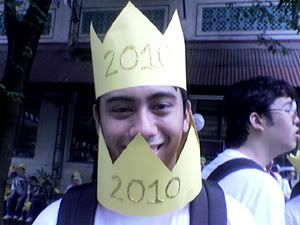 abe and his small head :D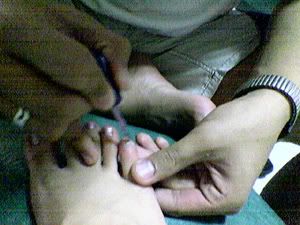 guess who's applying polish on my toe nails?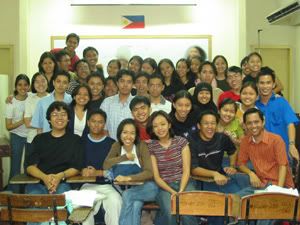 physics 51. may mumo sa likod?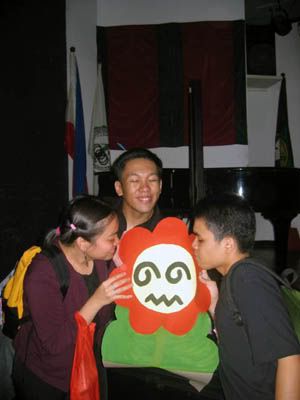 smelling Flower, our favorite Sinosisans props :)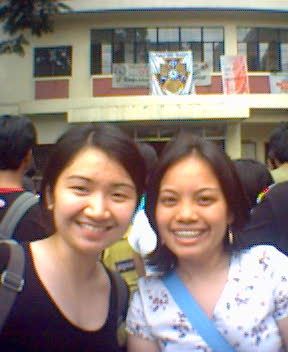 kathy and me (aka gorgeous ladies) ogling guys @ the oblation run
that's about it. paputol putol kong ginawa itong entry na ito. hehehe. i know na marami pa kong gustong ikwento i just can't exactly remember kung anu-ano pa yung mga yun. hehehe. sa susunod uli!