since my neurons are incapable of synapses right now probably due to my utter lack of mental exercise, i can't conjure cohesive paragraphs. when was i able to do that anyway? ;)
the cdo trip was grrrrrrrrrrrrrrrrrrrrrrreeeeeeeaaatttt!! 12 reasons why!
1. the mere thought of being in mindanao was exhilirating! sabi nga nung nakasama namin sa rafting, most people think it is too dangerous to go to mindanao because of all the terrorism incidents. what can we do? we are just thrill seekers i guess!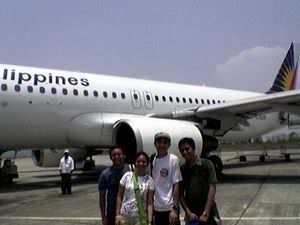 at the cdo tarmac

2. the food was delish. i swear, i don't eat rice until the time i left manila. guess what? i eat rice now for breakfast, lunch and dinner. after eating chicken inato, barbecue, lots of seafood (think:cholesterol) in cdo, sobrang laging hinahanap ng tyan ko ang pagkain. tomorrow i go semi-southbeach na talaga. promise.

3. day 2 in cdo was one helluva of an experience! for the extreme sports fanatics out there, try nyo talaga mag white water rafting. grabe saya every time we ride the rapids and come out of it unhurt. iisipin mo na talaga minsan kakainin ka na ng tubig eh. andami pang side trips along the way. most unforgettable experience: our guide and "expert paddler" took out a snake from a hole on the wall. okay lang sana eh. pero sheeet, inilapit nya sa amin! si gerald was sooo soo red already (he has snake phobia) and abe was going like "mommy!" hahaha! i swear if i wasn't so scared also nakakatawa because the guys were scared shitless. serves us right. tinakot nya kasi kami because we almost capsized when we hit a wall (of rock). snakes are not my friends. onga pala i have another memorable experience: there are times kasi na they allow you to just make paanod sa ripples (small rapids) kasi may suot naman na life jacket. so there, nagpatangay lang kami but i was going too too fast and i got carried away na talaga na mejo malayo. ang lalim talaga ng water i can't feel the bottom. like a crocodile swims there already! imagine being alone in deep cold water with the unknown beneath you. so they had to rescue me! yeah, ang drama i know i love it! sayang hindi na videohan. hahaha. some pics we took: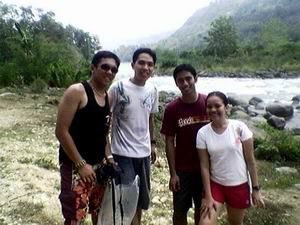 at the river bank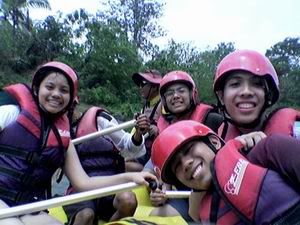 in action!
tapos na... balik tayo ulit!
4. we went to the beach on day 3. ganda! clear yung water and the sea grass pwede makita. we went canoeing and kayaking. ang layo ng naabot namin that the motor banca has to come tell us pa na "go back! you're way too far!" parang ganon. naki-usi pa kami sa mga nagssnorkel. ang kyut! we saw dory! a blue fish anyway. and a huge purple starfish that looks so kagat-able parang teether ng baby. hehehe.
5. sunburn doesn't hurt so much as long as you enjoyed being under the sun! i was so reddish i was really almost kakulay na nung litson na handa ni gill.
6. i had great company! with me were gerald, my brother tinton, abe, gideon, and our host gillian. imed friends are family! :)
7. we went to 3 malls: sm cdo, limketkai mall and gaisano mall. im such a mall person talaga.
8. got to ride a motorela! a jeepney-slash-tricycle-pero-apat-ang-gulong in one!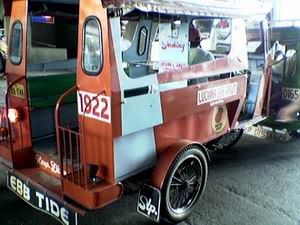 9. dahil sa cdo trip na yan i was able to buy those coveted havaianas!!!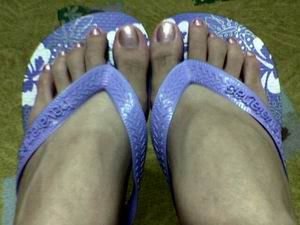 havaianas hibisco. 835 friggin bucks!
and a new shirt and tan capris too!
10. 3 "bodies of water" ang napaliguan ko: swimming pool, river, dagat! hahahahaha.
11. from way up up high in the sky i saw how beautiful the shores of our country really are. absolutely breathtaking! iba't ibang shades ng blue/bluish green and they sparkle and shimmer.
12. and this completely made my day: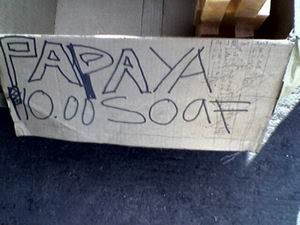 need i say more?
then it was time to go home...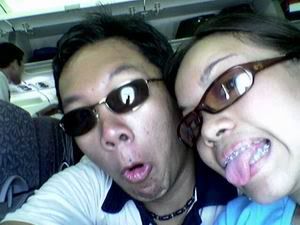 THE CDO EXPERIENCE:APRIL 19-22, 2005 :)
+++
today i went to my best friend's handaan sa balian, pangil, laguna. it was the town fiesta. sarap talaga ng libreng food! i saw there some high school classmates. here are some pics i took along the way: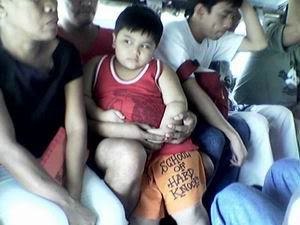 chubby chubibo kid. wala lang, nakyutan ako sa kanya, nakasabay ko lang sa jeep.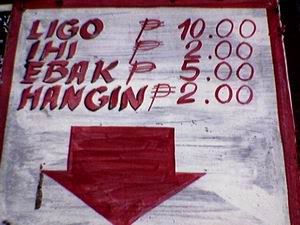 hangin? yun pala para sa gulong. hahahaha. yung context naman kasi nung sign. laugh trip todo!
one classmate/good friend has a baby na and he's so kyut!!! baby's galore. i have a new baby cousin nga din pala and he's ultra cute also! cute cute babies!! so squeezable!!

my new baby cousin, luis miguel de castro. he's soooo fat, 8.4 lbs! and maybe he'll get even fatter his mom's a pedia.

+++
ratzinger? he's too old... and his face is not as maamo as john paul II. plus he's ultra conservative. john paul II was conservative but was open to new ideas. i don't like someone radical though. being semi-conservative is good because you have some sort of an anchor which serves as a reality check. mahirap ang walang pinanghahawakan, you have a lot of tendency to go out of hand... maybe ratzinger's a transition pope lang talaga. i think i read on a broadsheet that ratzinger himself said that his papacy wouldn't last long. pero grabe yung legacy that john paul II left. ang taas tuloy ng expectations na kailangang i-meet ni ratzinger. oh well. the catholics have more issues to think of than just one man.

+++
i bake sinful brownies. haaay. i don't like to eat anymore. but they're really chocolate-y delicious!

+++
my phone can't receive text messages. bakit kaya. FYI: gideon told me that different signals are used for sending and receiving text messages. maybe there's a probelm with my receiving signal i dunno.
+++
my favoritest pair of shoes from janylin.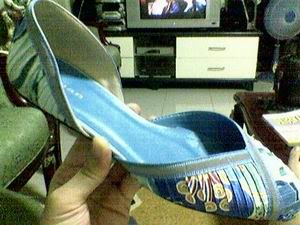 that's it! and as georgia nicholson (character from a chick lit titled confessions of georgia nicholson) says, TTFN people!

*TTFN - ta ta for now