but first and foremost, i would like to say thanks to the person who made all these possible.. no other than the bestest, brightest, patient, nicest, HANDSOMEST and most loving guy in the world, my gerald. :)

this is not the first time i blogged. at dahil sadyang mabilis akong magsawa sa mga design (mapadamit man o mapasapatos, in this case, sa design ng blog!), i change blogs often. well actually, if i count it, this is my fourth blog. i started blogging when i was korea and that was just some seven months ago. so you see, within a span of seven months, i've already created four blogs! and it's not that i was just changing the template.. i was actually creating an entire new blog! oooh, fickle fickle me. :) but i am going to stick to this one. besides super kaduper magtatampo si ge if i won't update this, i looooooooove this design. this is just so me.

sige nga, i'll try to recount all those blogs i've had. kaya ko kaya gawin what i had in mind? lemme try...

my first blog: take me to the empyreal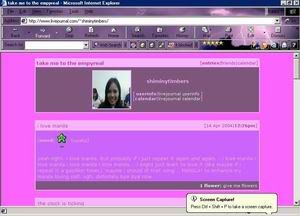 ayan, clickable pa yang mga images na yan ha! :p

this one was done while i was having my not so summer vacation in korea. it was friggin freezing there!! magkachat kami ni ge noon and we tried making our own blogs.

my second blog: i'm a girl, watch it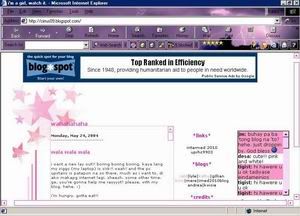 this was made when i returned to the country. ge also made this one for me. hello blogger and goodbye lj!

my third blog: sanity101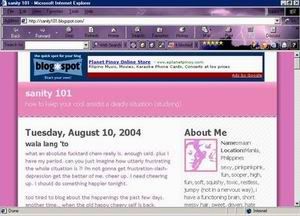 this blog marked the lowest point in my life during this sem. blame it all on org chem.a i was depressed, insecure and unhappy. all my posts there "tried" to be cheery but deep inside i was so so saaaad. buti na lang i was able to bounce back to my fun-loving self!! goodbye and thank you org chem!! and i friggin passed the finals! wahoooo!!

there ends the evolution of my blogs. but i am going to stick to this one because i totally love this!! see, i even learned how to put links and upload images. hehehe, yabang ko!