braces
my dentist has finally finished putting all those metal in my mouth. they hurt like hell but in time i'll get used to it. can't eat everything i want to because it hurts to masticate. and it's also hard to carry out the deglutition process because my teeth cannot perform a thorough mechanical breakdown of the food that i've ingested. wahahahahaha!! ayan, mapipilitan na akong kumain ng konti. :D
right now, they're color feenk, what else?
i like my dentist. she's competent, young and approachable. i don't get bored even if i'm just lying there with my mouth open for like around 4 hours! she even gave me a mirror so that i could watch my teeth being "excavated". PLUS: she wears light blue by d&g, my favorite perfume. asan ang koneksyon? :)
----------
happy halloween!!
full moon pa rin ba? sayang, di sumabay sa halloween or all saints' day or all souls' day. that would have made the ambience during those days even more spookier! just looking at the moon last night got me goosebumps. i could almost imagine a wolf howling awwoooooo! yeah, i'm THAT sissy. but i never learn. watched feng shui twice already and the grudge again when i went to manila last wednesday. but it's the american version this time. pinapahirapan ko lang sarili ko. why do i keep on watching horror flicks? geeesh.
----------
NMAT
at dahil malapit ng mag-november, malapit ng mag-december.malapit na ang NMAT! shet. i swear, hindi ako magrereview. pero nakakapanic no pag lahat na ng kaklase ko nagrereview tapos ako hindi magrereview? ah basta. i'm not going to review for it. kelangan ko lang naman maka-40% eh. :)
----------
another word
do you know what a squeegee is? yung mga ginagamit na panlinis ng windshield ng sasakyan. ya know, yung mga nandon sa gasoline stations. kyut ng word no, squeegee!! the next time i have a pet, i'll name it squeegee! :)
am i the only one who doesn't know what a squeegee is?
----------
what my brother would do for pasa load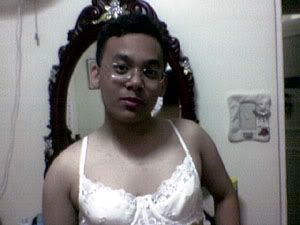 he's such a clown, i'm tellin you.
whoopdeda. that's all for now. dvd marathon naman. :)