yeeeeeeees! finally got all those html figured out. well, kinda. heehee. the colors were inspired by the new f&h billboard. hot pink and neon green. but mine's actually less neon green and more pink. syempre! i'll put the pic of the billboard here if i find one.
i still have to clean up a bit no? the links are not aligned and some other stuff that make my eyes sore. i learned to be OC na rin what the heck. after being aound OC people for almost 2 years na i would be OC talaga.
yesterday i went to powerbooks in atc to buy some... tadaaaaaaaa!! BOOKS! hahaha, malamang. :) but what's so "blogaramous" (reyes, 2004 hahahahaha!) about it is this. sidney sheldon's newest book, are you afraid of the dark, is finally here!! i've been waiting for that book for almost a year!! so embarrassing. i was jumping excitedly in the store when i got hold of it. talk about poise! anyway, i'm a huge fan of sheldon. i've read ALL of his books. his novels are primarily about conspiracies. with a heroINE. yeah, sassy and intelligent ladies with attitude. my kind of thing. pero his books naman are less twisted than dan brown's the da vinci code and angels and demons. i swear, reading those books got me goosebumps! i mean with the thought that brown can make you question your own religion... is he an antichrist or something? don't get me wrong. i love his books! those two anyway. deception point sucked. baka lang kasi i'm not a sci-fi fan.
change topic. you're seeing my dorky side. :)
i'll just put this pic here. kyut no?? that was taken at EK. using my trusty phone. pero pinagtaksilan din nya kami just when the camera worthy moments started. she (not a he!) decided to go low batt. nyaaaaaarrr. okay so i forgot to charge it. hehehe.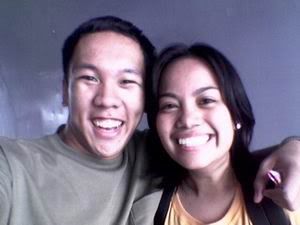 nothing more to say.. i'll read my book for a while. i bought three others pa pala.